Windstar Impressionist France
Experience the small ship difference of Windstar Cruises
Impressionist France Itinerary Amsterdam to Bordeaux

The French are known for their style and taste, and as you go from Bordeaux to Brittany, Normandy to Flanders, notice how each new vista appeals to an artist's eye. Island fortresses exude a fairytale magic – the breathtaking abbey perched on Mont St. Michel, imposing St.-Malo filled with pirate lore, the Ville Close of Concarneau with its romantic drawbridges. Everywhere you look, scenes that beg to be captured on canvas, or perhaps already is stunning La Rochelle built of luminous white limestone, Quimper's gargoyle-embellished cathedral, Monet's fabulous Japanese garden in Giverny, and Versailles, its gardens as magnificent as its gilded interior. The history here escapes the books and leads you on a wild scavenger hunt. Bone up on the Norman Conquest in the threads of the 11th century Bayeux Tapestry. Uncover the hearts and souls of medieval prisoners in the graffiti of La Rochelle's Old Port towers. Read the story of St. Ronan carved into the wood pulpit of Locronan's church. Relive the battle before the battle of D-Day in the bullet holes on Pegasus Bridge. Your spring timing is perfect for wandering gardens and flower markets, quaint Old Towns and the shops of Rue de Rennes in Paris. And with three overnight stays and smaller ports of call that are closer to the sights than big ships get, you can spend more time in the places you want to see most.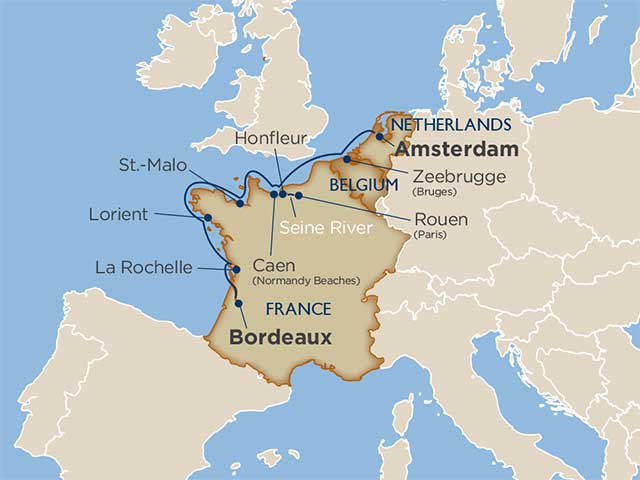 We suggest an additional night or two in Amsterdam before setting sail
Pricing From: $5079 Category SP - Star Porthole Suite
$5349 Category S - Ocean View Suite
$5439 Category S1 - Ocean View Suite
$5709 Category S2 - Ocean View Suite
$5889 Category S3 - Ocean View Suite
$6429 Category BS - Balcony Suite
$6609 Category SBS - Star Balcony Suite
$6691 Category BS1 - Balcony Suite
$6879 Category SBS1 - Star Balcony Suite
Rates listed are per person double occupancy. Port Charges and taxes totaling $628 are additional

Itinerary

Thu Aug 24, 7:00 PM Depart Amsterdam. Amsterdam, the Venice of the North, where over 1,500 bridges arch gracefully over scenic canals. The stately 17th-century homes of Dutch merchants line the canals, and museums are everywhere
Fri Aug 25, 9:30 AM - 6:00 PM Zeebrugge (Bruges) The entire city center of Bruges has been declared a UNESCO World Heritage Site, filled with Flemish and Renaissance architecture made all the more beautiful when reflected in the city's many canals. Shop for legendary lace, or a pint of Belgian beer.

Sat Aug 26, 2:45 PM - 6:00 PM Cruising the Seine River
Sat Aug 26 9:00 PM Arrive in Rouen
Sun Aug 27, Full Day in Rouen. Overnight in Rouen, a small ship charming medieval port and gateway to romantic Paris.

Mon Aug 28, 1:00 AM Rouen
Mon Aug 28, 9:00 AM - 6:00 PM Le Havre. Le Havre is a major port in northern France where the Seine River meets the English Channel. A UNESCO Site, Le Havre was almost completely destroyed during WWII and entirely and thoughtfully rebuilt with a modernist vision. It is the gateway to Normandy.
Tue Aug 29, 9:15 AM - 5:15 PM Caen. This third largest port of Normandy is a small ship-only port full of historical significance and is the gateway to the Normandy beaches of WWII.
Wed Aug 30, 8:00 AM - 11:59 AM St-Malo. Overnight and visit beautiful Mont St. Michel, a UNESCO World Heritage Site and home of the famous local oysters of Cancale.
Thu Aug 31 DAY AT SEA
Fri Sep 1 8:00 AM - 5:00 PM Lorient. A unique feature of this seaport steeped in maritime history is that only one cruise ship a day can come here, so a visit to this town is exclusive. Visit the Church of Our Lady of Victory.

Sat Sep 2, 8:00 AM - 7:00 PM La Rochelle. La Rochelle is said to be France's most lovely and unspoiled port city, and who are we to argue? Two 14th-century stone towers guard the gateway to the city's medieval core, the Vieux Port. And this is a city that is focused on ships.

Sun Sep 3, 11:30 AM Arrive in Bordeaux. Bordeaux has long been known as La Belle au Bois Dormant, Sleeping Beauty. And while the beauty part is undeniable, the sleeping part could be argued. Sure, the region is filled with treasures from long ago, including more than 350 historic monuments and buildings in the city alone. But the capital of Aquitaine is also home to a vibrant culture and, as oenophiles well know, is the gateway to some of France's most famous vineyards.


Mon Sep 4 Explore Bordeaux
Mon Sep 5 Fly Home or Extend your stay with a custom post-cruise stay.
Terms, conditions and restrictions apply; pricing, availability, and other details subject to change and/ or apply to US or Canadian residents. Please confirm details and booking information with your travel advisor.