16-Day World War II Memorial Tour
From $3,940.00 USD
16-day tour featuring Germany, Austria, Luxembourg, Belgium, Holland, and France
This World War II Memorial Tour is one of our All-Time best Tours
Join Our Exclusive Departure
Travel May 11-26 2022 for 16-Days of life altering memories and realizations of true sacrifice.
The Early Booking Rate of $3940/person (Tour only) is good until July 1, 2021
The estimated airfare and tour Package is $4835/person (Newark)
The single supplement is $1195 (limit one per departure)
Tour Deposit $300/person
Travel Protection $275/person

Travel Itinerary

Click here for in depth Itinerary

DAY 1 - Overnight flight from the U.S.A. to Frankfurt, Germany.
DAY 2 - Arrival at Frankfurt Airport. Meet your tour manager, board your deluxe motor coach and travel (1¾ hr) through the Franconian Wine Region. After a rest stop, continue (1½ hr) to Nuremberg. Freshen up for the welcome dinner at the hotel. (Dinner)
DAY 3 - During an introductory sightseeing (1 hr), experience the history of Nuremberg and view the site of the Nazi Party Rally Grounds, the Congress Hall, and the Palace of Justice where the War Trials were held. Return (½ hr) to your hotel this evening for dinner. (Breakfast, Dinner)
DAY 4 - Depart Nuremburg (1¼ hrs) and after a morning stop travel (1¼ hrs) to Dachau Concentration Camp. In the afternoon continue (½ hr) to the elegant Bavarian capital of Munich. Depart Munich in the late afternoon to spend two nights in an Alpine Village (2 hrs). (Breakfast, Dinner)
DAY 5 - Enjoy a day of leisure or join your tour manager for the full day optional Salzburg & Eagle's Nest with Dinner, including a guided visit to Hitler's mountain hide-a-way (1 hr), sightseeing in Salzburg (½ hr) and an authentic Austrian dinner (1 hr) before returning (1 hr) to the hotel in your Alpine Village. (Breakfast)
DAY 6 - Return to Germany (1½ hr) and after a morning stop proceed (1½ hr) to Ulm for an independent lunch and view the imposing Ulm Minster. Next, travel (½ hr) to the Rommel Memorial. Continue (2 hrs) to Bad Herrenalb, on the northern edge of Germany's Black Forest. (Breakfast, Dinner)
DAY 7 - Follow a scenic route (1¾ hrs) through the Vosges Mountains to the town of Saverne. On to (1 hr) Lorraine's American Cemetery, the largest American World War II cemetery in Europe. From here continue (1 hr) to Fort Hackenberg, part of the Maginot Line. After a visit, continue (1½ hr) to your hotel in Igel. (Breakfast, Dinner)
DAY 8 - It's a short ride (¾ hr) to the American Cemetery in Luxembourg. Drive (1½ hr) through the Belgian Ardennes Region and arrive in Bastogne. In the afternoon travel (¾ hr) to the Luxembourg National Museum of Military History in Diekirch. Transfer (1 hr) to Trier, the oldest city in Germany, for an independent dinner before returning (¼ hr) to your hotel in Igel. (Breakfast)
DAY 9 - Travel (2 hrs) to Boppard and board a steamer for a Rhine Cruise on the legendary river. After disembarkation, travel (1¼ hr) to Remagen to view the remains of the Ludendorff Bridge. By mid-afternoon, continue (½ hr) to your Rhine-Ruhr area hotel for an included dinner. (Breakfast, Dinner)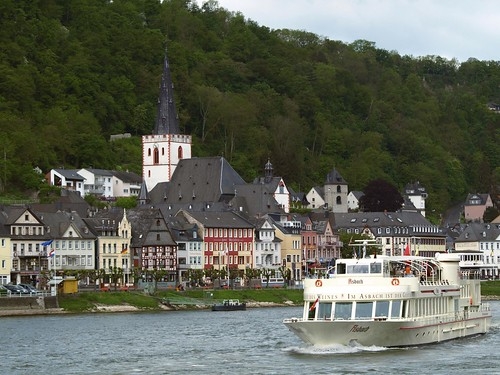 DAY 10 - Cross the border into Holland (2½ hr) to visit sights significant to the area's WWII liberation efforts. Cross the Waal Bridge on the way (¾ hr) to Nijmegen, then continue (¼ hr) to one of the local museums portraying the WWII Resistance in the Netherlands. Continue (2 hrs) to your South Holland hotel for an included dinner. (Breakfast, Dinner)
DAY 11 - Travel (1½ hr) to Amsterdam and enjoy ample free time followed by a boat ride through the canals. In the evening, transfer (1 hr) to the Dutch town of Delft for independent dinner. Then return to your South Holland hotel (½ hr). (Breakfast)
DAY 12 - A day full of travel. Drive (2 hrs), crossing the border to Belgium, to your first stop in Antwerp. After time for sightseeing and independent lunch, proceed (3 hrs) toward the French/Belgian border then to your afternoon stop. Finally, transfer (2¾ hrs) to your hotel in Caen where dinner will be served upon arrival. (Breakfast, Dinner)
DAY 13 - This entire day is spent touring the famous Normandy Landing Beaches, including a visit to Pointe du Hoc, Utah Beach, Ste.-Mère-Église Airborne Museum and stops at Omaha Beach, the artillery battery at Longues-sur-mer and Arromanches (travel time between stops varies from ¼ hr to ¾ hr). Short transfer (½ hr) back to Caen. (Breakfast)
DAY 14 - Head to the Caen Place Memorial and museum (¼ hr). After the visit, continue (½ hr) to a leisurely lunch break at Pegasus Bridge. Proceed (3 hrs) toward Paris, making a comfort stop along the way. Arrive in Paris' Montmartre District for exploration and independent dinner before transferring (½ hr) to your hotel. (Breakfast)
DAY 15 - A full day for individual exploration of Paris, starting with the optional Seine River Cruise excursion. Between afternoon sightseeing and dinner, your tour manager will schedule a transfer (¾ hr) to the hotel. End your day at a characteristic French bistro in the heart of Paris for an included "Farewell Dinner." (Breakfast, Dinner)
DAY 16 - Transfer (1½ hr) to Paris Airport for a daytime flight back to the U.S.A. (Breakfast)
Optional Add-on Excursions

SALZBURG & EAGLE'S NEST WITH DINNER
8:00 a.m. - 9:00 p.m.
from Alpine Village, US $120
Begin with a stop in the German village of Berchtesgaden where you will take a bus and elevator up to the Eagle's Nest, Hitler's mountain hide-a-way. In the case of a halted bus operation, we will substitute a visit to the Obersalzburg Documentation Center. After an independent lunch, become acquainted with nearby Salzburg, famous for the "Sound of Music" and Mozart. This excursion includes a traditional Austrian dinner at an alpine village restaurant.

SEINE RIVER CRUISE
10:00 a.m. - 11:30 a.m.
in Paris, US $25
Glide along the Seine River by boat, while viewing the Eiffel Tower, the Louvre, the Notre Dame Cathedral, and several other famous sights in Paris.
Brochure Request
Testimonials from Past Guests
Excellent - Nothing left to chance, definitely a 1st class operation - Image Tours is great!
H. Park- Sacramento, CA
You get excellent for everything.
R. Swihart - New Philadelphia, OH
Our tour manager, Pieter, was so knowledgeable and really a very delightful person. Totally took care of business, and had a wonderful sense of humor. We will definitely recommend your tours to our friends.
N. Ditmire - South Bend, IN
This, for a history buff, was truly a trip of a lifetime. I would highly recommend it to anyone with an interest in WWII history. Thank you Image Tours
E. Dorsey - Tijeras, NM
This trip is for anyone with patriotism in their heart. It was done with honor and dignity. I had 5 uncles and a dad in WWII and now I understand what cost this war had. I have more patriotism and more understanding of freedom [now].
R. Wiedmeyer- Allenton, WI
First time travelers with Image [and] very satisfied with the tour. [We] felt out needs were provided for.
W. Unfricht- Beacon Falls, CT
Just a fantastic tour in all respect.
R. Simmons- Phoenix, AZ
A very memorable trip.
R. Hooper- Shoreline, WA
This was our second tour with Image. Both trips were wonderful. The attention to detail in planning is evident. The perfect mix of sight-seeing and down time. Our tour guide was phenomenal. His knowledge of Europe's history and of all of the locations we visited was amazing.
D. Hanks- Janesville, WI
Each day was an enjoyable learning experience with a great & friendly tour group of people.
N. Scurto - Chula Vista, CA
Our tour guide made the trip. From early morning to late night - he was there.
T & B Taylor - Rapid City, SD
If this tour had been ten times the price, it would still be worth every penny! Anyone who is interested in WWII history and places to see in Europe would love this tour. I'm so glad I was able to go and have a tour director as fine as [ours]. I will never forget the people I met on this tour and the tour itself. It was the best thing I've ever done.
R. Johnson - Salem, OR
Terms, conditions and restrictions apply; pricing, availability, and other details subject to change and/ or apply to US or Canadian residents. Please confirm details and booking information with your travel advisor.